Through five games of the 2013 season, Washington running back Bishop Sankey is putting together one of the best performances ever by a rusher for the Huskies. On Saturday, Sankey rushed for 125 yards in a loss at Stanford, becoming the first running back to crack the century mark against the Cardinal this season and pushing his season total to 732 yards. That ranks second to Napoleon Kaufman (1994) for the most yards by a Washington running back through five weeks:
Player             Year  Yards   YPG
-------------------------------------
Napoleon Kaufman   1994   924   184.8
BISHOP SANKEY      2013   732   146.4
Greg Lewis         1990   644   128.8
Chris Polk         2011   611   122.2
Napoleon Kaufman   1993   575   115.0
Joe Steele         1978   568   113.6
Hugh McElhenny     1950   557   111.4
Rashaan Shehee     1997   541   108.2
Ron Rowland        1976   526   105.2
Corey Dillon       1996   503   100.6
The single-season record Sankey is chasing (1,695 yards, or 141.3 per game) actually belongs to the last player on this list — Corey Dillon, who rushed for nearly 1,200 yards over the final seven games of his single season in a Husky uniform. Here's how Sankey's current pace (purple) compares to Dillon (the top line) and Kaufman (the line highest on the life) and the other top-six single season rushing performances in Washington history.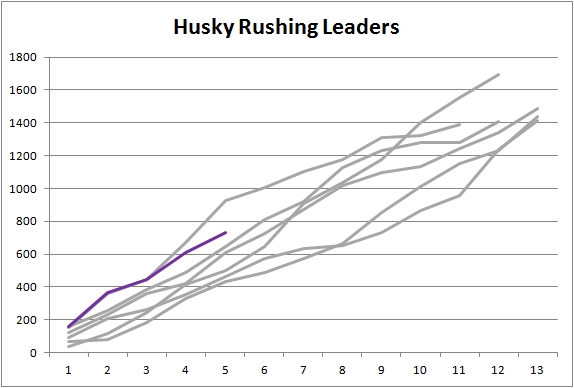 As long as Sankey keeps putting up big numbers — and he faces another defense this Saturday, Oregon, that hasn't allowed a 100-yard rusher — we'll update his pace on a weekly basis as he chases Husky history.