I went for a jog this morning and Steve Sarkisian was the head football coach at the University of Washington. By the time I came back, he had left for USC. And it wasn't even a long run!
I'm still trying to process exactly what this all means, and I'm not sure I've even developed an opinion yet. But I do know that you're going to hear a lot about Sarkisian's tenure on Montlake over the next 48 hours, and not all of it is going to be accurate — in either direction. So let's try to use the numbers to debunk some myths about the surprisingly brief Sarkisian era.
– Sark the Savior took an 0-12 team to a bowl game within two years
This is literally true, of course. Sarkisian inherited a team that had been winless the season before. That's not an accurate depiction of the state of the program, however. The Huskies had gone 5-7 and 4-9 the previous two seasons against brutal schedules. The 2006 team was likely headed for a bowl game had starting quarterback Isaiah Stanback not suffered a season-ending injury in the season's eighth game, and the 2007 team lost a series of close games (five of their nine losses came by a touchdown or less).
2008 was an outlier. Washington lost its first three games against ranked opponents (including a loss to BYU when an excessive celebration penalty on Jake Locker moved back the extra point that would have tied the game and forced overtime, which was subsequently blocked) before Locker was lost for the season and the team quit on Tyrone Willingham.
Just two of Sarkisian's first four teams rated better by Sports-Reference.com's Simple Rating System than Willingham's 2007 team, and all were in the same range. The difference wasn't Sarkisian magic, but instead better luck and easier non-conference schedules that better reflected where the Huskies were as a program. Graphing Washington season by season in the 2000s reflects surprisingly little difference between the high points of the Willingham era and the Sarkisian period: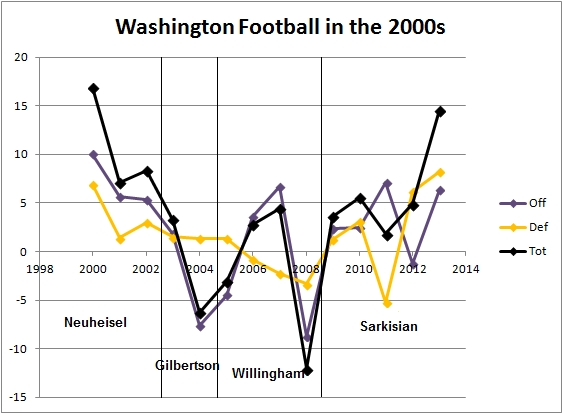 – "Seven-win Sark" had leveled off
Unfortunately for the Fire Sark lobby — you know who you are — going beyond wins and losses forces us to acknowledge that this year's Huskies had turned a corner long before they actually won their eighth game. In fact, SRS rates this as the best Washington team since the 2000-01 Rose Bowl champs. So too do Jeff Sagarin's ratings (which put the Huskies 10th in the nation) and pretty much anything that includes margin of victory.
Sarkisian timed his best UW team poorly, at a time when the Pac-12 was loaded. Three of the four Husky losses were to teams generally ranked in the top 10 by advanced stats, and UCLA is not far outside it. Losing badly at Arizona State looks a lot different in the context of the Sun Devils' subsequent run to hosting the Pac-12 championship; the "computers" now put Arizona State as high as second in the nation. Had the schedule been slightly different — say, playing Utah instead of ASU and hosting the Bruins — this could easily have been a 10-2 team that was driving for a tying score at Stanford in the final minute, in which case there would be a lot fewer jokes at the expense of Sarkisian and USC.
– The up-tempo offense is window dressing
The convenient explanation for Washington's breakthrough season is the faster-paced offense Sarkisian adopted this season, mimicking conference rivals like Oregon and Arizona State. But look again at the graph: the Huskies' offensive rating is actually slightly worse than 2011 (Keith Price's first full season as a starter) and no better than 2007 (Locker's freshman year). The system undoubtedly helped Price avoid the same beating he took last season, which left him banged-up and doubting his decision-making process, but a more experienced offensive line was also a major factor and this was a return to what Price did two years ago.
The difference for Washington was finally pairing a quality defense with the kind of offense UW boasted multiple times over the past five years. In fact, this year's defense rates better by SRS than the 2000 defense, the culmination of two years of improvement under new defensive coordinator Justin Wilcox. That's why today's really painful news might be the possibility of Wilcox joining Sarkisian at USC.